Veggie Nachos
You can still eat your nachos and cheese but by adding veggies and legumes you can make it a healthy snack or meal, packed with vitamin and minerals!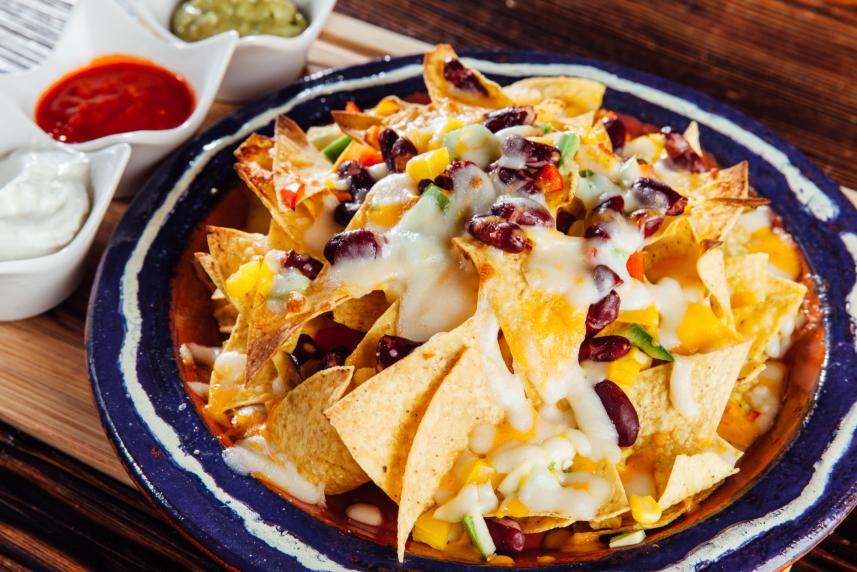 black pepper, freshly ground
canned low-sodium white beans, rinsed and drained
fresh kale stems trimmed, well washed and dried
shredded Monterey Jack cheese
avocado, ripe, peeled, and coarsely chopped
Directions
Preheat oven to 375 degrees Fahrenheit.
Heat a large skillet on medium with oil.
Add onion and garlic, cook down 2-3 min.
Add corn, beans, carrots, red pepper and black pepper; cook 3-4 minutes.
Add kale and cook 1-2 minutes.
Turn off heat and move off burner.
Add parchment paper to large baking sheet and spread nachos evenly.
Add veggie/bean mixture over nachos evenly, then sprinkle cheese over mixture.
Add any additional spices if desired.
Put in middle or top rack for 7-8 minutes, or until cheese has melted.
In the meantime, add yogurt to medium bowl, stir in squeezed lime juice, paprika.
Pull nachos out of oven add tomatoes & avocado and yogurt mixture. Enjoy!
| | |
| --- | --- |
| Calories | 360 |
| Protein | 15 g |
| Carbs | 2.2 g |
| Sodium | 189 mg |
| Potassium | 916 mg |
| Fiber | 12 g |
| Calcium | 220 mg |