Rainbow Spring Rolls with Homemade Peanut Sauce
Tired of your everyday veggies and ranch? Try Asian style and dip them in a tasty homemade peanut sauce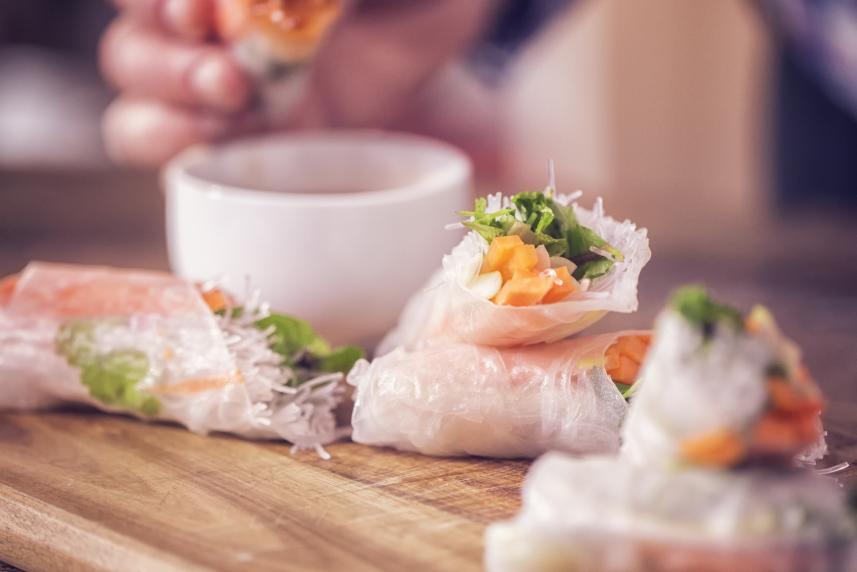 Directions
Wash and chop all vegetables in thin 1-2 inch slices, place separated on large plate.
Fill a large bowl with warm water (this will make the rice paper flexible).
 Wet a dish towel and ring out until damp, lay flat.
Dip the rice paper in warm water for 5-10 seconds.
Place rice paper on damp towel.
Place a few slices of each food in center of rice paper, fold top of rice paper over vegetables, followed by each side, then roll down tightly until completely closed.
Dip in sauce and enjoy!
Sauce Instructions: 
Combine all ingredients and whisk until combined.
Garnish with toasted sesame seeds.
| | |
| --- | --- |
| Calories | 168 |
| Protein | 4.6 g |
| Carbs | 2.5 g |
| Sodium | 105 mg |
| Potassium | 789 mg |
| Fiber | 7.7 g |