Spicy Lentil Chickpea Burgers
These veggie burgers are flavorful and packed with protein and fiber. Healthy, delicious and easy to make!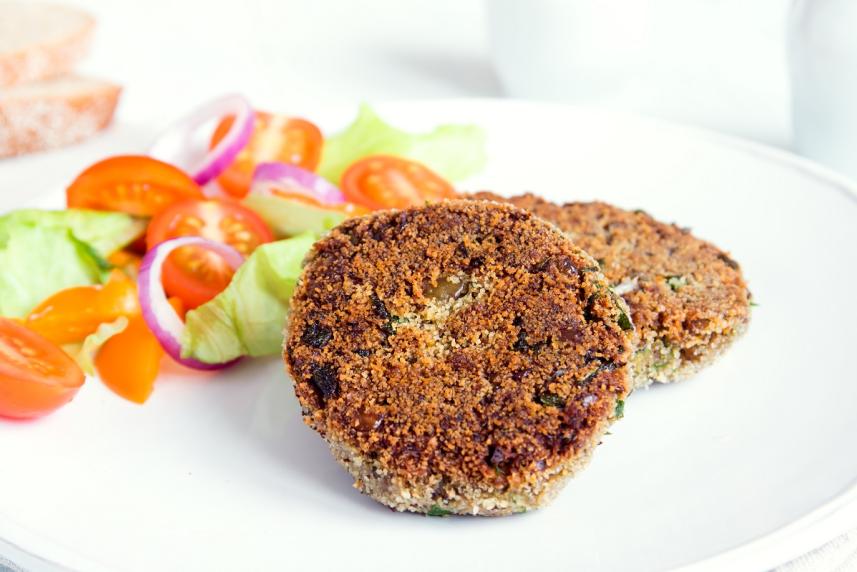 1/2 cup (yellow or red/pink)
chickpeas (15-ounce), drained and rinsed
Directions
If baking, preheat oven to 400F.
Wash lentils, add to pot with water, put over medium heat. Bring to a boil, cover and cook for 8-12 mins, or until almost tender.
Drain excess water, add to blender.
Wash and drain chickpeas, add to blender, add the rest of the ingredients. Blend until a coarse paste forms.
Transfer mixture to bowl. Taste and adjust spice as needed. Let chill for 10 mins. If too sticky, add more breadcrumbs.
Shape into 3-inch patties.
Brush oil onto a baking sheet, place patties on sheet and bake for 20 mins in oven. Or pan-fry in a medium-greased pan, 3-4 mins on each side.
Add your choice of topping(s): cheese, guacamole, ketchup, etc.
| | |
| --- | --- |
| Calories | 84 |
| Fat | 1 g |
| Sodium | 181 mg |
| Carbs | 13 g |
| Fiber | 6 g |
| Protein | 5 g |